It was the fall of 1974 and I was a senior in High School.  At seventeen I lived in a world of constant motion, perpetually rotating on an axis of anxiety and seduction; rife with opportunities for discovery and obsession.  I read constantly, adding fuel to the whirling inferno of hormonal delirium.  I wanted to go everywhere as fast as I could by the longest possible route.
A teacher took pity and offered to take me to New York to see a performance of "One Flew Over the Cuckoo's Nest", by Ken Kesey.  It was being performed at the Mercer Arts Center in Greenwich Village.  Now at that time I would have leapt at the chance to go anywhere with almost anyone to escape what I perceived as the cultural and sensorial desert of suburban Long Island.  Also, while I had been to New York several times on various school trips, I had never been south of Penn Station and the name Greenwich Village immediately evoked a fascinating, if convoluted, collage of images that included beatniks, hippies, coffee houses, Bob Dylan, Jack Kerouac and probably everything else I thought strange, wonderful and beautiful at the time.  I was sure that if I went there something would happen to change my life.  I was sure that I would be spiritually reborn and passionately inspired.  And, at the very least, I was sure I would avoid dinner with my family.  I said I would go.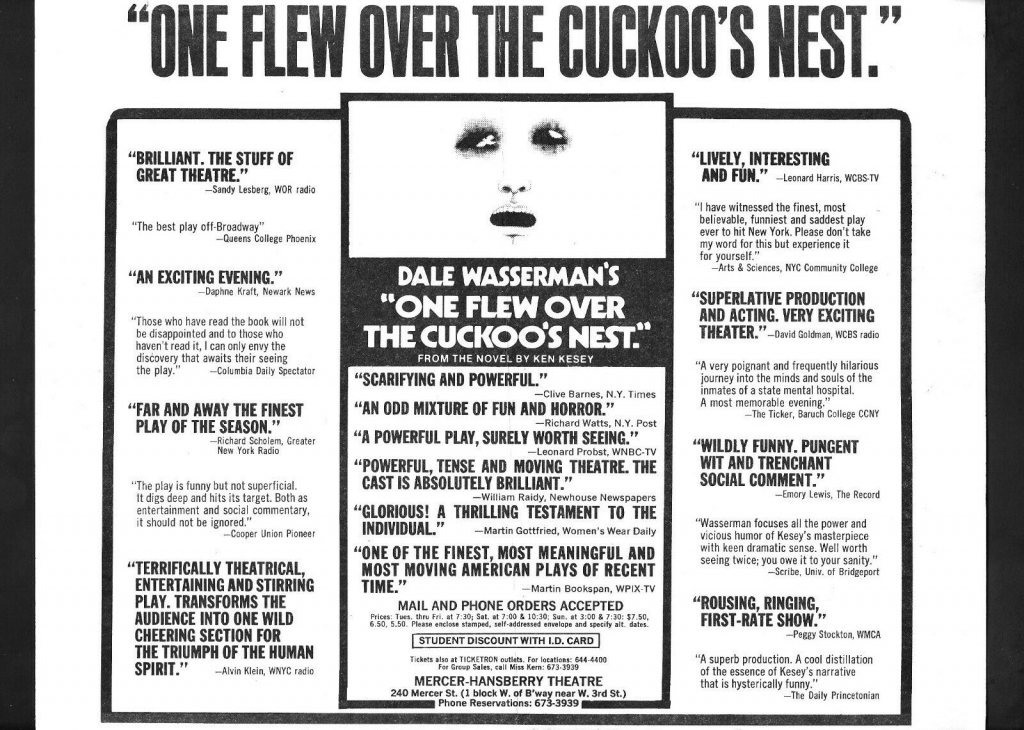 Though most of that night is forgotten, buried beneath the detritus of many decades of Village adventures,  there are three scenes which stand out clearly.  The first is stepping from the 4th St. subway station near the Waverly Theater.  There I was, finally in Greenwich Village.  I remember thinking "Wow, this is it!".  After waiting a full thirty seconds for something to happen a somewhat disgruntled echo came floating back: "This is it?". I had anticipated an incredible transformation when we stepped up from the subway, like the scene in " The Wizard of Oz" when Dorothy arrives in Munchkin Land and the movie bursts into technicolor.  I'm sure I would not have been at all surprised to see several munchkins walk by. (Actually, in that neighborhood, I still wouldn't.)  I wasn't exactly disappointed.  It was more like the time, a few years later, when I saw the Pacific Ocean for the first time.  After a few minutes of staring at the waves I couldn't help thinking "Okay, do something".
The next thing I remember is standing in the lobby of the Mercer Arts Center.  There were several theaters in the complex so there was quite a crowd gathered at show time.  I kept looking for something amazing; for some wild, exotic, artistic messianic face to appear in the crowd.   While there probably were one or two certifiable freaks there most of the people looked more or less like me, only a few years older.  I didn't understand at the time that I was  standing near the center of the NYU campus where everyone was me, only a few years older.  The only thing that seemed amazing was the title of the other play that was being performed: "The Effect of Gamma Rays on Man in the Moon Marigolds". Tony asked me if I was having fun.  Even while I smiled and said "yes" there was this increasingly plaintive voice in my head crying "Where's Andy Warhol, why aren't people wearing sunglasses and snapping their fingers, WHERE ARE THE GODDAM BONGOES?"
My final memory of that evening is the most vivid and did, in the way that minor miracles do when you're seventeen, change my life.  As we emerged from the theater I was still vibrating from the triumphant final scene where Chief Bromedon crashes out of the asylum.  The cold night air welcomed me abruptly to the street and as my eyes focused I saw that it had snowed the whole time we were in the theater.  The light shone clearly on the softly draped white streets and I remember being amazed at how quiet and still everything was.  I felt reassured that the echoing hush of a winter snowfall was just as intimate on a city street as it was at home.
We walked a few blocks toward the subway and I was content, something special had happened.  It had snowed while I was in New York and home was still far away. Then, as we crossed the intersection of Waverly and University, I saw Washington Square for the first time.  It was covered in four inches of freshly fallen snow.  Every tree and statue, every bench and hedge, every arch and fountain, were blanketed and quiet; each one outlined in silver-blue shadow.  I stopped and stared, finally gasping, unaware that I had held my breath.  We walked along Washington Square North and I just kept staring raptly into the park.  When we passed Fifth Ave. I looked up and saw the arch outlined against the luminescent sky in a swirling halo of fine snow.  It looked ancient, mysterious…enchanted.  It was like looking into the eyes of the Sphinx and having it wink back.  As hackneyed or overused as the expression might be I can think of no better way to describe that moment except as love at first sight.  I knew that this was something special and unique and that somehow it would be a part of me forever.  I knew that I would come back and that this place would be home for me in a way that Long Island never would be again.
Three years later I still hadn't quite made that move, but my girl friend had.  She and her best friend had moved to the Van Buren apartments off University Place.  Soon after she moved I had another incredible village experience, though this one was more of an educational nature than my earlier revelation.   I had gone to the Deli on the corner to purchase some milk.  When I got to the counter the man looked at me and said  "Hi, how's your lovely girlfriend?".  I was shocked.  I looked behind me.  No one there.  I looked at him blankly and said "huh?".  He smiled broadly "You're girlfriend, I see you come in here with her two, three times, very nice girl, how is she?"  It finally dawned on me.  He recognized me.  He was saying hello.  Just like in real life.  This was a Deli, just like at home.  This was a real place.  People lived here.  I could live here.  I smiled insanely and gushed "Fine, fine, she's fine, great, great, great talking to you, probably see you again, maybe tomorrow, maybe later today, might need some more milk, bye, see you soon, best to the missus."  I'm sure that the poor man swore to never say another word to me, but I didn't care, I was thrilled to have discovered that you could actually live in New York City.
Not long after, having completed my requisite cross country find-myself-or-someone-who-fits-into-the-same -shoes journey, I did move to the Village.  Soon I had a job in a restaurant just off Washington Square.  Summer nights I would walk home through the park and sometimes stop to smoke a cigarette and watch the parade of dark figures go by; some shuffling, some dancing, some singing softly to themselves.  I liked to think that they all had been drawn there as I had.  If I sat long enough one of these shadows would stop and talk to me and we would share a smoke and perhaps tell each other some small truth about ourselves.  Other times there were people who couldn't speak, they would just wail or chatter, chemically deranged or socially separate. It was sad yet somehow, in that place, it seemed that there was always a certain poetry to pain and a solace in suffering.  It was as if even the most pathetic person could somehow become a heroic figure on a summer night in Washington Square.  It came as no surprise to me when I discovered that the park had once been a potter's field and that perhaps hundreds of bodies were still buried beneath it.  It was always a soulful place, one that at the same time moved me to introspection and expression.
And now it's many years later.  The Mercer Arts Center has long since collapsed and I have moved uptown.  I now spend a great deal of my leisure time on the great rolling continent of Central Park.  But once again I find myself employed a few blocks from Washington Square.  Once again I find myself walking by the park late at night.  It has changed, as have I.  Now there is a curfew and the few shades that cross the park in the early morning darkness seem sinister and more than vaguely ominous.  I no longer feel protected by a youthful belief in my good luck or my fellow man's goodwill and I quicken my step down the deserted street.  The park in darkness no longer offers a chance encounter with something wild, it threatens a confrontation with something perilous.
During the day Washington Square seems much the same as it always has.  A quad for NYU, a mecca for street performers, amateur musicians and petty drug dealers.  You still have to dodge rollerbladers and frisbees and there remain the strangely comforting still life portraits of chess players and kibitzers at the southeast corner.  There are still the ubiquitous crowds of noisy, restless youth, their proprietary attitudes irksome, but their poses timeless and poignant.  However, as reassuring as all these constancies are to some they mean little to me because the daytime park was never mine.  I always walked through as a visitor and felt uncomfortable sitting very long there in the sun.  There was always just a little too much going on, a few too many guitar players, a couple too many dogs.  It always seemed like they were holding tryouts for the stage production of "Twelve Days of Christmas".  No, I've always preferred the park in darkness, during the after mid-night hours, as it was the first time I saw it, timeless and still.  In fact every year, if it snows at night, and if I'm free, I make my way to Washington Square and I try once again to see it through the eyes of a seventeen year-old; to see it newborn and darkly white.  Then I try my best to look through those eyes for as long and as far as I can into the cold city night.
Published in New York Perspectives  November 2003